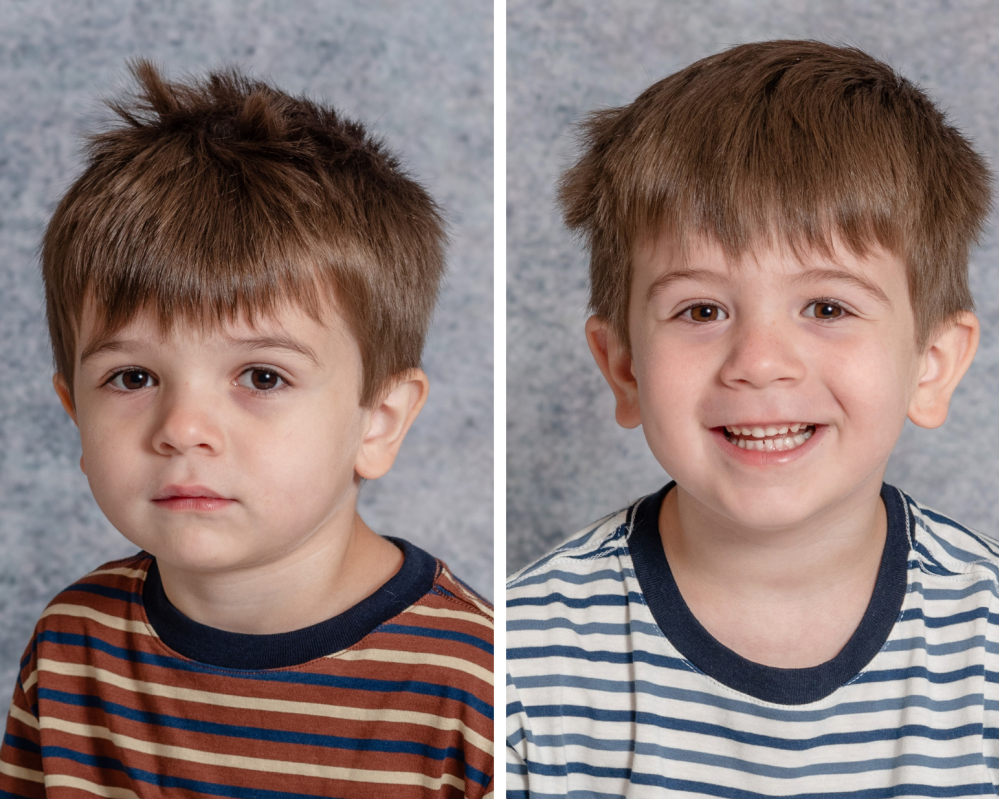 Our two sons were diagnosed with autism. My husband and I began discussing our concerns with our first-born son, Ronan's, pediatrician when he was around the age of two. In May 2022 Ronan was formally diagnosed with Autism. Ronan has completed outpatient occupational therapy, speech, P.L.A.Y. project, and early intervention.
Ronan is what we call our "trick" baby. From the moment he was born, he was happy. He slept well, ate well, loved to go on adventures, and spend time with family. He was the first baby on my side of the family we got to all love as adults. Needless to say, he was and is extremely loved and spoiled.
Not long before his second birthday, Ronan became a big brother! We decided to have his little brother evaluated after receiving Ronan's diagnosis. Bennett was formally diagnosed with Autism in June 2022.
Bennett is spunky, sweet, and honestly everything in between. He has kept us on our toes since we brought him home from the hospital. He has a smile that can turn anyone's day around and loves fiercely.
Bennett and Ronan have been best friends since the day Bennett was born. They play together, make messes together, refuse to go anywhere without each other, and sleep holding hands or arms every night. Sometimes we believe that Bennett's autism diagnosis was the universe's way of giving the boys a pal who understands this journey on a deeper level than us.
The boys began school at New Horizons Academy. We decided to surpass public school for Ronan so he could have more services. Bennett began preschool at New Horizons and instantly started making huge strides in many areas.
Ever since Ronan began New Horizons, he made huge progress towards his goals and loves the routine of school. He loves to learn new things especially when it comes to numbers and language/reading. In addition to his education, he is very sociable and enjoys his friends and making new friends with any new student who comes to the classroom. He also has become quite a talker.
Bennett had a huge speech boom within two months of school, became happier than we have ever seen him, made multiple friends, and is keeping his teacher on her toes by hitting many IEP goals and education goals inside of the classroom. Bennett also received the school's "Soaring Eagle" award for such personal and educational strides. There are times she can't keep up switching out his binder activities!
While New Horizons has been incredibly beneficial for the boys, we still had some work to put in towards their goals. They still needed assistance with safety measures, speech, social cues and conversation, and sensory regulation. The summer program offered them the chance to keep their routine in place over the summer, continuing their education, seeing their friends, assistance with their communication devices, and extra services that they needed.
After the wonderful experience the boys had during the summer program, we decided to continue their development and enhance their safety training. We enrolled the boys in Goldfish Swim School. Ronan and Bennett love the water, but they do not understand safety precautions and they don't know how to properly float and swim. With these courses, they are learning how to float, swim, and the importance of water safety. It also benefits them by giving them sensory input and regulation.
As their parents, we always strive to provide the best for our boys and are always looking for ways to help them hit their goals and keep making progress. Avenues for Autism has made a significant impact on our lives. Ronan and Bennett have received funds from the Suzanne Tyner Fund in the past two years. The first year it allowed them to attend their schools summer program which gave them a bridge to adjust to the new year routine. This year, we received funds to attend swimming school for six months where they are learning the basics of swimming, floating, and water safety. Easing everyone's minds in our home and giving them something to look forward to each week."
Story by Haley (Bennett & Ronan's mom)