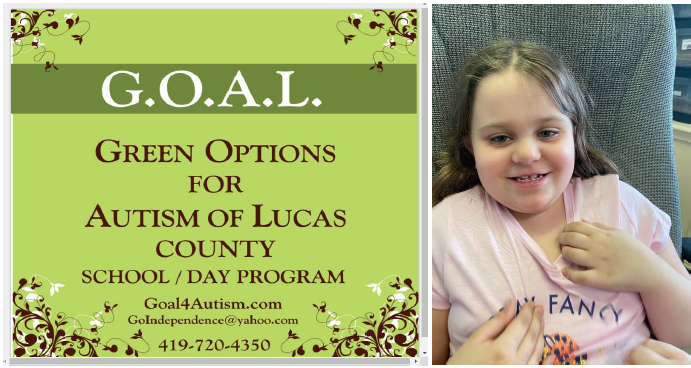 Annabelle Couture turned seven years old this week. She attends Green Options for Autism of Lucas County. Annabelle has been with our school for two school years. Annabelle has made tremendous growth behaviorally, academically, and socially. Annabelle has put forth a lot of effort to increase her vocabulary. Some of the words that she now uses to express her wants and needs are "water," "scooter board," "Mickey Mouse," "Swing," "bubbles," "drum," and more! When she started at GOAL, transitions were difficult for her; now when Annabelle hears a timer, she can transition without getting upset. She has been able to respond to schedules and recognizes when it is time to move from one activity to the next. Annabelle can match words to pictures and pictures to words. Annabelle is now able to read basic sight words independently. 
Life skills is an especially important part of GOAL's curriculum. Annabelle has come a long way in mastering many self-care tasks. She has become independent taking care of her personal needs. She smiles and giggles, and even makes eye contact when playing "peek-a-boo." When Annabelle first arrived at GOAL, she stood at the entrance door and screamed "door" because she wanted to go back home. Now she will come into class, take off her coat and book bag and put them into the cabinet without screaming. 
Annabelle had great difficulty on transportation, this is no longer a problem. She behaves well in the van and her behavior continues to improve. 
GOAL staff is excited about Annabelle's accomplishments! Her parents, Sarah Clark and Terrance Couture, are very proud and see the improvement at home.