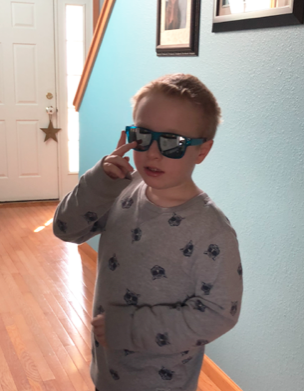 When our son Conner was about eighteen months old, we began to have concerns about his lack of eye contact, not responding to his name, and falling behind on basic toddler milestones. My husband and I couldn't wait to hear his voice and dreamed of the day he would call us Mommy and Daddy, but that day seemed less and less likely as time went on. After seeing several healthcare professionals, we were finally directed towards a development specialist who acknowledged our concerns. After a few months Conner was given the diagnosis of Autism Spectrum Disorder. The doctor recommended we get him started with ABA therapy right away, in addition to speech and occupational therapy. Conner started ABA therapy when he was 2 ½ years old. After a few months our little boy, who previously spent his days not communicating or interacting with us in any way, began pointing at things. Conner had made some progress with his part-time involvement in the ProMedica Autism Early Learning Program (AELP), but we knew that he would need more intensive ABA therapy. We eventually got Conner started in the full day program. He began spontaneously calling us Mommy and Daddy, knows the alphabet, counts to one hundred, knows his colors and shapes, and labels dozens of different objects and animals! While he isn't much of a conversationalist he's come so far and amazes us every day! I can't believe some of the stuff he says! He forms three to four-word sentences and started making requests. He also began showing signs that he was able to read by writing and spelling some words. He loves to sing and for Christmas we got him a guitar. He tries to play while he sings- it is so cute!
While we still have a long way to go with his language and social development, I could not be prouder of new things, watching other kids and new people, and giving me hope that someday he will be able to have friends and carry on conversations with those around him. I know we would not be where we are today if not for the wonderful people working with him at AELP. This program has changed our lives and helped our son to find his voice and engage in the world around him. While it is worth every penny and we are extremely grateful, the cost of the program is a strain. You don't expect to pay these kinds of cost for schooling at such a young age, especially paired with additional therapy costs, communication devices, and sensory toys.
Organizations like Avenues for Autism made such a difference for us. From the bottom of our hearts, we are thankful for the financial assistance received through the Suzanne Tyner Fund for Conner's ABA therapy.  Contributions such as yours are a huge help with the financial burden my husband and I face to ensure that Conner receives the best therapies and treatments for his Autism. He has grown leaps and bounds thanks to these therapies. He is so different from the little boy who made no eye contact and was completely nonverbal when he started AELP. It has been so exciting and encouraging seeing all these positive changes in him and it gives us hope for the future!
The Prucnal Family