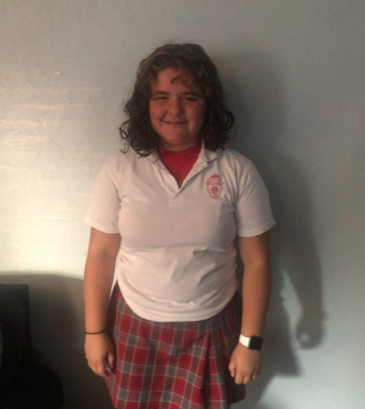 Emily, our 17-year-old with autism, attends Central Catholic High School and has since her freshman year. As Emily's senior year approached, we thought we were in great shape to cover the rest of her tuition, until June 1, 2020. It was on this day that Bryan, Emily's father, went into the hospital with chest pain upon exertion. Subsequently, he had triple bypass surgery on June 5, 2020. This surgery, even with great health insurance, put our family's economic stability at risk. Although a copay was small price to pay for his life, it was a hardship for our family budget to cover. This issue came out of the blue and was not something that we had prepared for. He was off work for a few months and short-term disability did not cover 100% of his wages. As if things couldn't get any worse, Emily lost both her grandmother and grandfather shortly after her father's massive surgery. We brought her 92-year-old great grandmother in to live with us so she could be taken care of. Emily also, has a 14-year old little brother, Michael, with autism. He requires a lot of time, and hands on care, due to medical concerns and behaviors.
Needless-to-say, Emily's personal life was impacted greatly. School was the place she could learn, grow, and be herself, without the added responsibilities her home life had quickly required. Unable to afford the full tuition, attending her senior year at Central Catholic High School was in jeopardy.
We applied to the Suzanne Tyner fund with hope that Emily could finish her high school career in the same school she started at. Emily absolutely loves Central. She has shown so much growth socially by making friends, going to band bonfires, and being involved in senior class activities. She's improved her grade point average and even learned to play a new instrument, changing from the clarinet to the alto sax. We're amazed by the progress Emily has made with the many challenges she has faced this past year, including autism.
As best stated by Emily herself, "The Suzanne Tyner Assistance Fund has allowed me to stay at Central Catholic and I am ever so thankful! I love CCHS because it's like a second home to me. I've made so many new friends and I even joined the band. While I struggled in the beginning of high school, I have finally found my place. The band is like family to me and they have helped me become who I am today. The band and administration have supported my hopes and dreams for these past 4 years, and the Suzanne Tyner Assistance Fund was a huge part of keeping me at CCHS. Thank you, Tyner Family and Selection Committee, for your commitment to my education!!"
Kate, mother of Emily